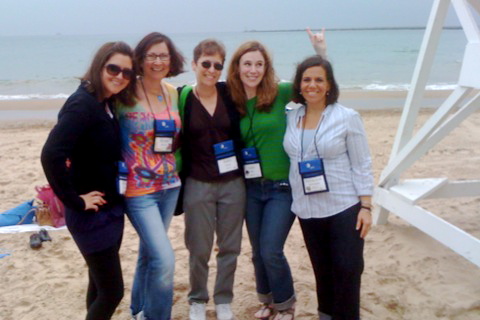 OUR PURPOSE
To support one another by sharing professional knowledge and experiences in a nurturing atmosphere
To provide continuing education in areas related to the cantorate and Jewish music
To serve as a forum for discussing practical issues for women in the cantorate
To commission Jewish music for women's voices
In 1982 when women in the cantorate were not recognized or accepted in most professional cantorial organizations, Deborah Katchko initiated and organized the first conference of a group of 12 women that would ultimately become the Women Cantors' Network. At that time, she served as cantor in a Conservative congregation in Norwalk, CT, the second woman cantor to hold such a position (Elaine Shapiro in Florida was the first). Excluded from any cantorial community, she felt totally isolated from colleagues. It thus seemed natural to form a special group of women to share concerns, successes, frustrations, unique situations, and spiritual journeys.
Since that time, of course, women cantors have been recognized and accepted into all liberal cantorial schools and organizations. Yet the need for women cantors to come together has not diminished. Networking among women encourages and inspires us as we share knowledge and experiences in balancing our relationships with congregations, families and friends.
The membership benefits of conferences and phone networking has broadened with the regular publication of a newsletter beginning in 1983, the writing of a constitution and by-laws in 1993, the commissioning of new Jewish music in 1997, and the creation of an on-line list-serve network in 1998.
However, the WCN has remained true to its original goals: it is an open resource to any working, aspiring, or retired woman cantor who enjoys sharing, learning, singing and praying as a unique community. We support each other in our struggles and we celebrate our accomplishments. We have grown into a membership of over 300 women and men from the U.S., Canada, Israel, the UK, France and Germany.
Related article in Jewish Women Archives: "Cantors: American Jewish Women"
Women Cantors' Network Presidents
1982-1988: Deborah Katchko-Gray
1988- 1994: Doris Cohen
1994-2000: Anita Hochman
2000-2003: Rica Timman
2003-2006: Anita Schubert
2006-2008: Sue Roemer z"l
2008-2010: Kathryn Wolfe Sebo
2010-2012: Robin Joseph
2012-2014: Geri Zeller z"l
2014-2016: Jacqueline Breines
2016-2018: Debby Lewis
2018-2020: Robbi Sherwin
2020-Present:  Francyne Davis Jacobs