Unfortunately, our Women Cantors' Network Conference
has been postponed to 2021.  Please stay tuned for details.
"Filling the Empty Chair:  Strength & Blessing in Community"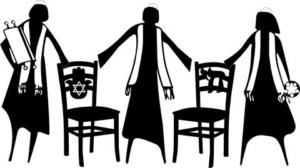 Conferences are the highlight of our year. They help us come together as a community of cantors, singers, spiritual leaders, teachers and friends. As we have grown over the years since 1982, our conferences have evolved into a multi day experience of prayer, learning, song and spirit. Our tefillot are moving and meaningful, and our workshops, led by peers, mentors and nationally recognized experts, enrich our cantorate and help us grow and evolve.
Our 2020 Conference theme, Filling the Empty Chair: Strength and Blessing in Community, is a reference to the Oklahoma City Memorial, a park adjacent to the site of the Murrah Federal Building, that is designed with 168 empty chairs representing those who died in the bombing 25 years ago. That moment redefined Oklahoma City, pulling together its many faiths and cultures and sowing the seeds of understanding that continue to strengthen our connection to each other. For more information about the Memorial, click here 
Co-chairs: Linda Matorin Sweenie and Debby Lewis
Conference Committee:Ilana Axel, Diane Weil, Sally Heckelman, Gail Nalven, Sharon Hordes
2020 Conference Registration
$275 Early Bird Pricing until April 15th, 2020
$300 Full Conference April 16th – Jun. 1
$375 Late Registration Full Conference after Jun. 1
$375 Walk-Ins, Full Conference
$180 Student Full Conference
$150 One Day Either Tuesday, June 16 or Wednesday June 17
$90 Student One Day Either Tuesday, June 16 or Wednesday June 17